Heal Yourself: Mind Over Medicine with Lissa Rankin, MD :: Virtual - 6031
Posted by Ada E on 24 July 2013 09:15 PM
Virtual
Heal Yourself: Mind Over Medicine with Lissa Rankin, MD
The Heal Yourself Virtual Retreat Package
FIVE (5) DVDs, equaling a total of over 7 hours of information
Book: Mind Over Medicine: Scientific Proof That You Can Heal Yourself- Lissa Rankin MD.
Book: The Tapping Solution by Nick Ortner.
Book: Crazy, Sexy Kitchen by Kris Carr and Chef Chad Sarno
ONE (1) meditation CD
HEAL YOURSELF: MIND OVER MEDICINE with Lissa Rankin, MD, is based on the 2013 New York Times bestselling book, Mind Over Medicine: Scientific Proof that Your Can Heal Yourself by Lissa Rankin, MD. It is a meticulously researched explanation of the critical role our thoughts, feelings, and beliefs play in our health and wellbeing – and how we can harness the power of our minds to enjoy great health and longevity with specific, easy-to-do steps.
Dr. Rankin is a trained ob-gyn who has emerged as one of the newest thought leaders in the mind/body medicine arena. Her work has been featured extensively in the national media, including O magazine, The New York Times, CNN, Health, Women's Health, Self, Forbes, The Chicago Tribune, Glamour, and Cosmopolitan. She will make an appearance in the fall on the new Lisa Oz Show, and she enjoys a huge online following on her blog at LissaRankin.com, on Twitter, and on Facebook.
She is also the founder of The Whole Health Medicine Institute, dedicated to teaching doctors how to provide truly integrative health and wellness to patients.
Its Board includes Dr. Bernie Siegel, Dr. Larry Dossey and Dr. Christiane Northrup, who says about Lissa, ""What a pleasure it is to see the next generation of physicians waking up to what I call real medicine – the kind that acknowledges our true power to heal and be well."
Dr. Rankin was educated at Duke University, Northwestern University, and University of South Florida. She lives in Marin, California, with her husband and daughter.
Program DVD
The program is comprised of 3 Acts.
Act 1 includes these points and stories:
• After working with patients in northern California who should have been the picture of health, but weren't, Dr. Rankin created a radically new patient intake form, which asks:
If your health condition had a message to deliver to you, what would it say?
What does your body need in order to heal?
• Explanation of why the program is for all viewers – those with health conditions and those who want to be in better health
• Audience survey of who is feeling "at the top of their game"
• Importance of understanding YOUR BODY IS YOUR BUSINESS
• Story of Stamatis Moraitis, diagnosed to die 45 years ago, alive today at age 98
• Story of Marla, patient who made significant life changes and saw significant health changes as a result
• Lissa's own conventional physician training & personal story
• The Spontaneous Remission Project from Institute of Noetic Sciences
• The Four-Minute Mile and its effect on beliefs
• Dr. Kelly Turner's work on "radical remissions"
• Why Western medicine is very important
• Your brain is most important organ for your health
• "Learned helplessness"
Act 2 includes these points and stories:
• Explanation of the placebo effect with examples
• Story from medical literature of Mr. Wright and drug Krebiozen – the classic example of placebo and nocebo effects at work
• Explanation of the nocebo effect
• Explanation of the role the amygdala plays in the brain and how it controls stress
• Understanding how the body has its own self-repair mechanisms, which are under the influence of the nervous system
• Stress response vs. relaxation response
• Why the body's self-repair mechanisms only work when the relaxation response is activated
• Demonstration of easy technique to activate relaxation response from Herbert Benson's research
• Other relaxation response activators anyone can do
• One very unusual way to activate your relaxation response – the
Healing Act of Generosity – with 2 stories as examples
• How your doctor can affect your amygdala
• Importance of creating your own team of healing practitioners
• What to look for in healing practitioners
Act 3 includes these points and stories:
• The importance of reducing stress response for self-healing and optimal health
• Dr. Rankin's groundbreaking new wellness model: The Whole Health Cairn
• Each stone of the Whole Health Cairn has been scientifically proven to affect health
• Why physical health is only one aspect of whole health
• Each stone in Cairn is capable of activating either stress or relaxation responses
• Your Inner Pilot Light – the key element of The Whole Health Cairn
• The role of the Gremlin Voice
• The importance of the Relationship Stone – the story of Roseto, Pennsylvania
• How to write your own diagnosis of the root cause of your illness
• There are no guarantees for wellness
• Story of Kris Carr, creator of Crazy, Sexy Cancer
• The difference between being Healed and being Cured
• Healing ourselves, healing health care
• Final quote from Dr. Albert Schweitzer: "It's supposed to be a secret, but I'll tell you anyway. We doctors do nothing. We only help and encourage the doctor within."
The Heal Yourself Virtual Retreat Package
Companion DVD with bonus material (approx. 1 _ hours)
Relaxation CD: "A Self-Healing Meditation With Lissa Rankin, MD and Karen Drucker"
Three New York Times bestseller books (all bestsellers in 2013):
Mind Over Medicine: Scientific Proof That You Can Heal Yourself- Lissa Rankin
MD.The Tapping Solution by Nick Ortner.
Crazy, Sexy Kitchen by Kris Carr and Chef Chad Sarno.
Four specially produced DVDs to accompany the program, total time 6 hours:
" Heal Yourself with Food – A Conversation with Kris Carr & Lissa Rankin, MD" 1 hr.
"Heal Yourself with EFT/Tapping – A Conversation with Nick Ortner & Lissa Rankin, MD" – 1 hour.
"Heal Yourself with Whole Body Intelligence – A Conversation with Steve Sisgold & Lissa Rankin, MD" – 1 hour.
"Write Your Own Prescription – 6 Steps to Heal Yourself with Lissa Rankin, MD" – 3 hours.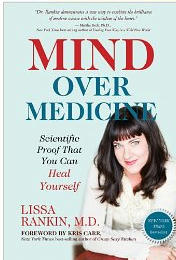 ---